Profile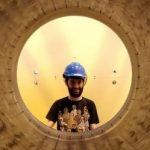 Liam Gaffney
Looking forward to the weekend!
Curriculum Vitae
Education

St Basil's Primary School, Widnes (1992-1998); Sts. Peter and Paul Catholic High School, Widnes (1998-2005); University of Liverpool, BSc (2005-2008); University of Liverpool, PhD (2008-2012)

Qualifications

11 GCSEs (1A*, 5As and 5Bs); A-Levels (A in Physics, C in Maths and C in Chemistry); BSc (Hons) in Physics - First Class; PhD in Nuclear Physics

Work History

Stockroom assistant - Argos, Widnes (2003-2007); Chief potato peeler - Local Chip Shop, Widnes (2003-2006); Post-doctoral Research Assistant - KU Leuven, Belgium (2013-2015); Post-doctoral Research Assistant - University of the West of Scotland (2015-2016); Senior Research Fellow - CERN (2016-2019)

Current Job

Ernest Rutherford Fellow (STFC) - University of Liverpool

Employer

University of Liverpool

Science and Technologies Funding Council (STFC)
Favourite thing to do in my job: Making nuclear reactions

About Me: I'm a physicist working at the University of Liverpool and previously lived and worked in Belgium, Scotland and Switzerland. When I'm not studying radioactive isotopes I like to go cycling or play 5-a-side football.

Read more

Football and cycling are good ways to keep fit, but I also like being lazy and hanging out with friends. I enjoy cooking, especially making my own pizzas because you can put whatever toppings on you want (lots and lots of cheese) and make the base nice and thick. 🍕

I like to listen to music, especially when working because it helps me to concentrate. My favourite band is Radiohead, but I will listen to anything if it's good and always open for recommendations. 🎵

Even though I work at the University of Liverpool, I support Manchester United, which doesn't make me the most popular person in the department. I love watching rugby league and Widnes Vikings are my team, but they're not very good at the moment (just like Manchester United)…

I've just bought an old house with my girlfriend and we're spending lots of time (and money) renovating it, so my weekends are filled with building walls and choosing paint colours at the moment. If you've got a favourite colour for the bathroom, let me know!  🏠

My Work: I study radioactive or unstable isotopes at CERN. I want to measure the different shapes of the nucleus at the centre of atom, which helps us understand how protons and neutrons bind together. These nuclei aren't usually spherical like a football, but can have exotic shapes like rugby balls and pears!

Read more

I work at a facility called ISOLDE, which produces radioactive ion beams using the protons accelerated to high energies at CERN. You might know CERN from the Large Hadron Collider (LHC), but instead of smashing protons in to each other, we slam them in to a stack of uranium foils. When the high-energy proton beam hits the uranium atoms in the foils it causes nuclear reactions, which produces a whole range of radioactive isotopes.

I want to look for isotopes where the nucleus is shaped like a pear. To do this, we have to separate out all the other rubbish that is produced and select atoms of a single isotopes of a single element. This is like finding a needle in a haystack, but we have lots of tricks up our sleeves, like using finely-tuned lasers, powerful magnets and high-power accelerators.

We recently found that radium-224, which has a half-life of only 3.6 days is one of these rare pear-shaped isotopes, only the second one to be confirmed! At the same time, we noticed that radon-220 behaved a bit like a wobbly pear and it was vibrating between a rugby-ball shape to a pear shape.

Our new project is using an old Magnetic Resonance Imaging (MRI) machine from a hospital to do nuclear reactions. Did you know that MRI machines use the principle of Nuclear Magnetic Resonance (NMR) to image inside of the body and to diagnose everything from broken bones to tumours? Well it's basically just a really big, powerful magnet, which turns out to be really useful for bending particles. We're not using it like a camera to study nuclear reactions like those that created the elements we see today in big astronomical events like exploding stars.

My Typical Day: I'm not an early riser, I prefer night time to morning time... I have to be fuelled by big mugs of tea to get me going in the morning. I usually do some reading on the train to work or get on my bike for the journey to enjoy the fresh air and get active before I start my day. In my office, I'll usually be doing analysis of the data from previous experiments or writing the results up to publish. In the lab is where I'm happiest and I can usually be found twiddling with the electronics and building up the detectors ready for radioactive isotopes to arrive! I also teach a couple of times per week in the undergraduates physic practical classes. The students there are working on experiments understanding radiation and how to detect it in different ways.

What I'd do with the prize money: I'd like to give students from my local school (and their physics teacher!) the chance to go to CERN and visit the place where all the action happens.

Read more

I'd spend the money to fund a number of students from my local high school or sixth form to visit CERN and take a tour of the laboratory. I would welcome them and give them a guided tour of ISOLDE, the radioactive beam facility and they would also have a chance to go around various other laboratories, exhibitions and meet the scientists. They'd be accompanied by their teacher and have lunch in the CERN restaurant just along the corridor from where the World Wide Web was born!

My Interview

How would you describe yourself in 3 words?

Rubbish with descriptions

What or who inspired you to follow your career?

My high-school physics teacher, Mr Forbes

What was your favourite subject at school?

All of the sciences, PE and technology

What did you want to be after you left school?

A doctor, but I don't like blood :(

Were you ever in trouble at school?

Yes, but not too badly

If you weren't doing this job, what would you choose instead?

I'd be building something probably, with bricks or wood

Who is your favourite singer or band?

Radiohead

What's your favourite food?

Pizza

What is the most fun thing you've done?

I saw killer whales in Canada

If you had 3 wishes for yourself what would they be? - be honest!

To be happy, successful in science and for Manchester United to win the Champions League

Tell us a joke.

What's a nuclear physicists favourite food? Fission chips!
---
---