Profile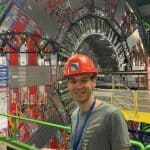 Mark Johnson
Want to know more about antimatter? Check out this link! https://bit.ly/36XYdTI
Curriculum Vitae
Education

The University of Manchester (2015 - 2019), Durham University (2011 - 2015), Liverpool Blue Coat School (2004 - 2011)

Qualifications

PhD and MPhys degrees in physics; A-levels in Physics, Chemistry, Maths, Further Maths and English; GCSEs in Physics, Chemistry, Biology, Maths, Computing, English, History, Geography and Spanish

Work History

PhD Student

Current Job

University Researcher

Employer

The University of Manchester
Favourite thing to do in my job: Trapping atoms made from antimatter!

About Me: I'm a 26-year old university researcher from Liverpool. I love playing the guitar, following Formula One, and travelling all over the world whenever I can!

Read more

I live in Liverpool with my family.
I spent the last few years living in Switzerland, and made the most of it by doing lots of cycling and even some skiing.
I'm a huge Formula One fan – earlier this year, I went on holiday to Montréal to see the Canadian grand prix!
Ever since I was at school, I've loved music and playing the electric guitar. I've made a habit of collecting more and more guitars, even though I don't always have space for them 🙂

My Work: I work on an international experiment that makes antimatter – a mysterious 'mirror image' of the normal matter that makes up everything around us! I work in a big team to try and unravel fundamental questions about our universe.

Read more

I'm part of an international team of researchers working at CERN in Switzerland. CERN is most famous for being home to the Large Hadron Collider (LHC), the world's most powerful particle accelerator. I work on a smaller experiment called ALPHA, that traps individual atoms made out of antimatter.

Antimatter is a fundamental building block of our universe, but we had no idea that it even existed until the 1930s! In nature, antimatter usually only exists for fractions of a second, before annihilating with normal matter and disappearing in a flash of radiation. Our experiment can trap antimatter for hours at a time while we carefully measure its properties.

Our best theories of physics can't explain why the universe contains lots of normal matter but hardly any antimatter, so we use our experiment to search for tiny differences between the two. Finding any kind of difference would totally revolutionise how we understand our whole universe!

My Typical Day: Every day is full of surprises! Computer programming, designing new parts for our experiment, and learning about amazing new science from people all over the world.

Read more

One of the best parts of my job is doing lots of hands-on work with our experiment at CERN. Usually, we work in small teams to keep the experiment running 24 hours a day. It can be pretty tiring sometimes, but it's a lot of fun working on a team with your friends and other world-leading scientists. Our experiment only works if it's really cold, so every few hours we have to feed it with liquid helium at a chilly -269 °C. That's almost as cold as outer space! I spend a lot of time in a special control room, with lots of computers that monitor our equipment.

I spend most of my days in an office, writing computer code to understand how complicated parts of our experiment really work. Sometimes this is really challenging work, but I enjoy thinking on my feet and taking on difficult problems – kind of like solving a puzzle!

These days, hardly any science is done by some genius working alone in a dark lab. We spend a lot of our time learning about amazing new science and discussing ideas (usually over coffee…). As a student, I got to travel all over Europe talking to other scientists about their latest breakthroughs!

What I'd do with the prize money: I'd use it to try and inspire as many students as possible!

Read more

I would be absolutely blown away if I'm lucky enough to win!

Ideally, I'd use the £500 prize money to inspire as many students as possible to get excited about physics. I would definitely use some of the money to put together hands-on experiments, like miniature particle traps that can be taken into schools. It's one thing to talk about doing cutting-edge science, but it's so much more exciting to actually do it for yourself!

Recently, I've been lucky enough to work at one of the world's most famous scientific labs. Unfortunately, it would be pretty difficult to have all of you visit our experiment in Switzerland, but I would love to set up some 'virtual tours' of our lab that everyone can take part in!

My Interview

What or who inspired you to follow your career?

Fantastic teachers, and amazing real science that sounded more like science fiction

What did you want to be after you left school?

A rock guitarist, of course! Particle physicist was a close second…

Were you ever in trouble at school?

I wasn't always great at paying attention in maths lessons

If you weren't doing this job, what would you choose instead?

Travelling the world with an F1 team!

Who is your favourite singer or band?

The Beatles or Muse

What's your favourite food?

Sushi, steak and party rings

What is the most fun thing you've done?

I've seen an F1 race in Texas, and been on TV with Brian Cox!
---
---